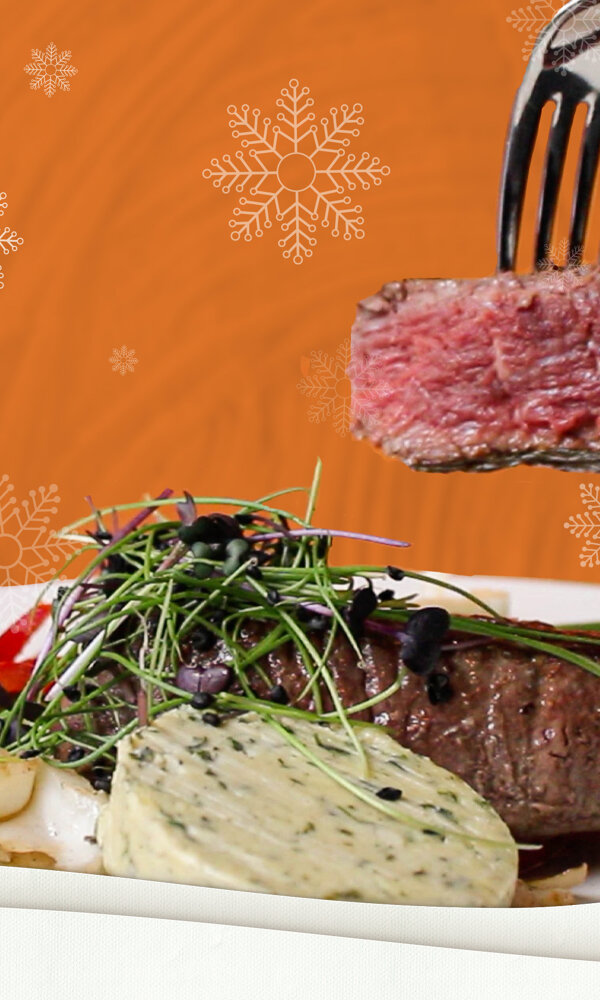 Holiday Dinner at Restaurant San Remo
A special menu compiled for the holidays, offering cozy dining with good food and drinks.
*This menu is subject to change.
Starters
Choice of several appetisers from the buffet, including:
Raw ham with melon
Smoked salmon with lemon

Trout with lime

Shrimp salad with cocktail sauce

Olive mix

Antipasti platter

Carpaccio with truffle mayonnaise and Parmesan cheese

Marinated mushrooms

Marinated zucchini with feta cheese

Game pâté with pearl onions

Deer ham served with suitable compote

Luxury breads with garlic sauce, hummus, and green pesto

Various salads
Soups:
Twentse tomato soup

Pea soup

Onion soup
Main courses
Vension steak
Baked vension steak with game sause
Cod
Oven-roasted cod with a tomato tapenade topping
Pork tenderloin
Pork tenderloin with brie, wrapped in raw ham
Schnitzel
Fried fillet schnitzel served with mushroom cream sauce
Pasta
Penne pasta served with sautéed vegetables, pecans, tomato sauce and Parmesan cheese
Sirloin steak
Baked sirloin steak served with red wine sauce
All main courses are served with chips, matching vegetable garnish and stewed pears.
Dessert
Coupe Cherry
Vanilla ice cream served with hot cherries and whipped cream
Coupe San Remo
Vanilla and chocolate ice cream with chocolate sauce and whipped cream
Advocate
Vanilla ice cream with eggnog and whipped cream
Coupe Oreo
Strawberry- and vanilla ice cream with Oreo cookies, vanilla sauce and whipped cream
Fresh sweet
Yoghurt- and forest fruit ice cream with strawberry sauce and whipped cream
Apple dessert pie
Apple pie with a scoop of vanilla ice cream and whipped cream
Children's menu
Starters
Choice of several appetisers from the buffet, including:
Tomato soup
Carpaccio
Shrimp salad
Bread with spreads
Main courses
Chicken breast
Fried fish
Chicken nuggets
Fricadelle
All children's main courses are served with fries, applesauce and cucumber.
Desserts
Children's ice cream
Vanilla ice cream and strawberry ice cream with crackling dip and whipped cream
Children's coupe cherry
Vanille ice cream served with hot cherries and whipped cream