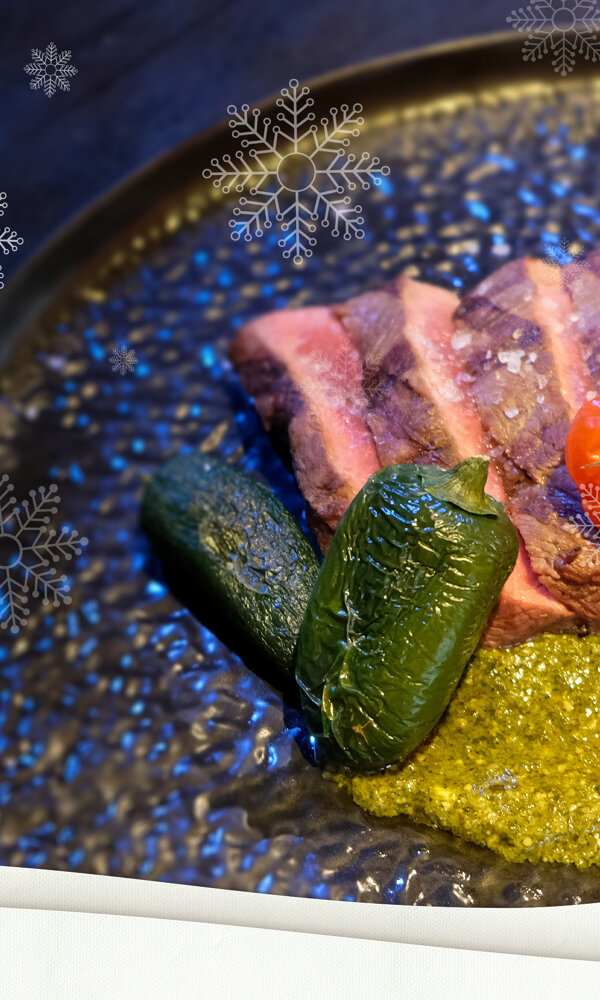 Holiday Dinner menu Midtown
"Nice to meat you! Delicious food here is just "a piece of cake"!
V means that the dish is vegetarian possible.
*This menu is subject to change.
Starters
Chicken Soup: Powerful chicken broth served with pulled chicken, tomato, and zucchini
Creamy Potato Soup (V): Potato soup with finely chopped leek
Cranberry Apple Salad (V): Fresh salad of green and red apples with cranberries
Prawn Cocktail: Prawn salad with cocktail sauce, served with bread
Smoked Beef: Smoked beef steak, served with piccalilli and bread
Salmon Bagel Cream Cheese (V): Bagel topped with smoked salmon, served with cream cheese and fresh garden herbs
Chicken Wrap (V): Wrap filled with pulled chicken, bell pepper, lettuce, and barbecue sauce
Main courses
Midtown Ribs: 600 grams roasted spareribs (sweet or spicy)
Veggie Mac & Cheese (V): Macaroni served with fresh vegetables and cheese sauce, gratinated with cheese
Double Stardust Bacon Melt: Double grilled beefburger with lettuce, tomato, pickle, bacon, cheddar and burgersauce
Double Stardust Veggie Melt (V): Stardust melt with burgers from the Vegetarian Butcher, with lettuce, tomato, pickle, cheddar, and burger sauce
Christmas Turkey:Turkey fillet wrapped in bacon, stuffed with tomato, served with basil sauce
Boneless Ribs: Slow-cooked beef rib meat, served with celeriac puree and apple syrup sauce
Peppersteak: Grilled beef sirloin served with pepper sauce
Grilled Salmon: Grilled salmon fillet served on linguine pasta with red pesto and lime
American coleslaw, fresh fries, onion rings, roasted vegetables, and a jacked potato (potato with sour cream) can be ordered separately.
Desserts
Salted Caramel Brownie: Brownie with salted caramel topping, vanilla ice cream, and whipped cream
Strawberry Sorbet: Strawberry ice cream, vanilla ice cream with strawberry topping and whipped cream
Cookie Dough Coupe: Caramel ice cream, vanilla ice cream with cookie dough topping and whipped cream
American Cheesecake: White chocolate cheesecake with mixed berries, served with yogurt-berry ice cream
American Pancakes: Pancakes with forest fruit compote and a scoop of vanilla ice cream
Kids Menu
Appetizers
Prawn Cocktail: Shrimp cocktail served with bread
Bagel Cream Cheese: American bagel served with cream cheese
Potato Soup: Potato soup with finely chopped leek

Main Courses
Spaghetti Meatballs: Small beef meatballs with pasta in tomato sauce
Mini Spareribs: Spareribs served with fries and applesauce
Chicken Tenders: Breaded chicken tenders served with fries and applesauce
Cheeseburger: Grilled cheeseburger served with fries and applesauce

Dessert
Coupe Kids: Vanilla and strawberry ice cream with candies and whipped cream
Kids Donuts: Colorful donuts