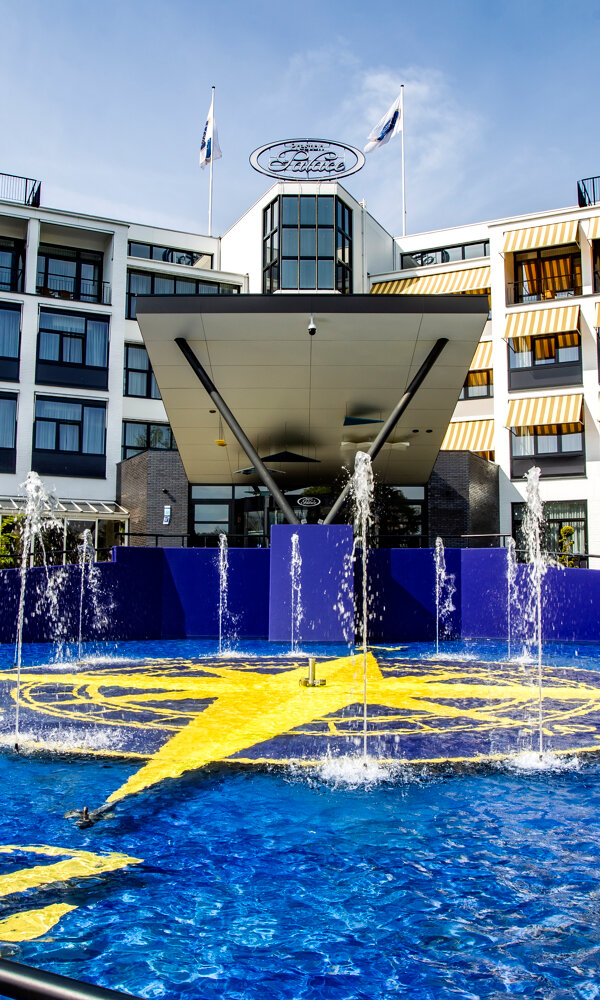 Frequently Asked Questions
Someone in our group has something to celebrate. Do you have a nice idea to do something extra?
Do you want to arrange a special treat for someone during your stay or is it time to treat yourself? Below are various options.
Decorating service. We'll decorate the hotel room of the birthday boy or girl, happy couple, or anyone else who has something to celebrate! This decorating service consists of a paper chain above the bed, balloons with streamers on the bed and a personalised card (A3). The costs for this are €15.00 per room and you can add it to your online booking or request it with your telephone booking. At the click of a button, we hang the bunting.
Wellness. Unwind and relax at Riviera Wellness. You can receive various types of massages and treatments for a fee. Check out the possibilities and rates here.
À la carte dining. The food at hotel-restaurant Ribbleton, San Remo, Midtown, Black Rock and the Snack Counter is included during your stay. Would you like even more variety and enjoy an à la carte dinner? Then we have the following option: Silverado Bistro! You can enjoy a 4-course menu for a €17.50 surcharge per person. This includes drinks.
Romantic Package. Surprise your sweetheart! Book a romantic surprise with a personal message in your hotel room. The romantic package comprises a rose on the bed, delicious chocolates, a personalised romantic card (A3) and champagne for 2! The costs are €29.95 per romantic package/per room.
A Champagne Breakfast. For €15.00 per person (minimum of 2 persons) we provide a generous champagne breakfast in your room. A lovely breakfast with nice bread rolls, sandwich toppings, eggs, coffee, tea, orange juice and, of course, a bottle of champagne. You can choose the time you would like to have this breakfast. Wouldn't it be lovely to wake up to such a feast?
A bottle of champagne or wine. Super festive! On request we can place a bottle of champagne (75cl. €95.00 or 37.5cl. €55.00), French sparkling wine (75cl. €9.00) or wine (75cl. €13.00) with glasses in the room.
Ordering a cake. For €2.50 per person (and a minimum number of 6 people) you can order a cake with a decorative message. You can enjoy this with your group in the coffee corner or in the restaurant.
Order flowers or have flowers delivered. You can order flowers via your own Fleurop shop in the area or via www.fleurop.nl/DirectBestellen. You have these delivered by quoting the reservation number and we will place the flowers in the room indicated by you.
Extending your package or arriving early: Your hotel stay ends at 11 am on the day of departure and you will no longer be able to use the facilities. Would you like to? We offer the option to extend your hotel package deal after 11 am at a reasonable price.
An extension until 2 pm costs €19.50 per person, including lunch until 1.30 pm.
An extension until 7 pm costs €45.00 per person, including lunch until 1.30 pm and dinner.

Please note: When you extend your package, your hotel room will no longer be available after 11 am. You can store your luggage in an unsecured area.
By paying an additional charge of €19.50 per person, you may use the facilities from 12 noon on the day of arrival. For that price we treat you to a lovely lunch. The hotel room is available from 3 pm.
Avoid disappointment and reserve early!
Interested in the options above? Then please make a reservation by phoning our Reservations department on +31 (0) 546 542121. You can also ask them for more information.