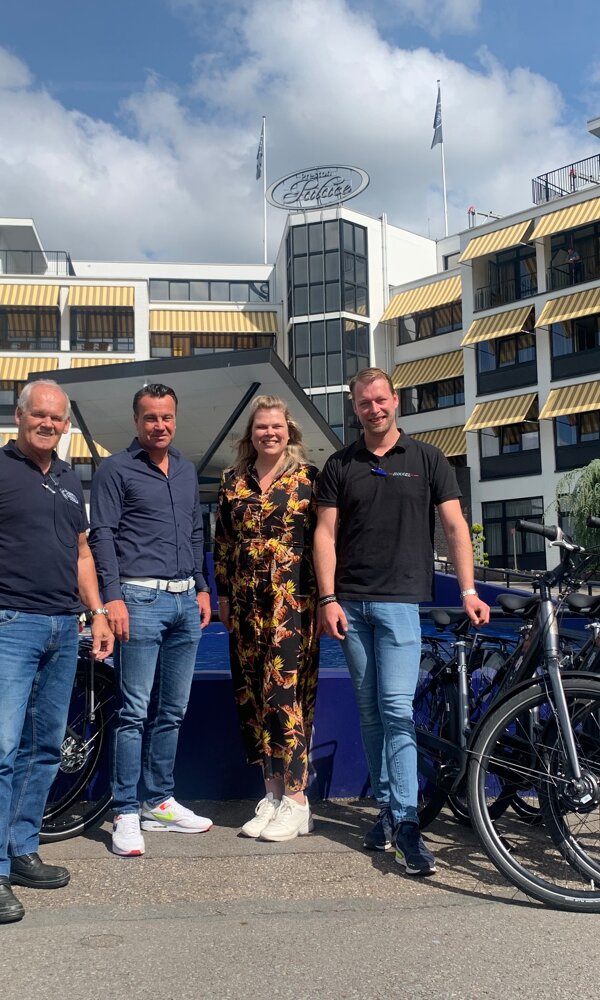 Preston Palace E-bike & Bicycle Hire
Preston Palace lies on the edge of the city of Almelo, a stone's throw from the rural outskirts: the green heart of Twente. A delightful setting for a beautiful bicycle ride. Striking spires point the way to rustic church villages. Castles and water mills give a glimpse of the rich history of Twente.
In the city of Almelo you can taste the historic atmosphere in the atmospheric streets, alleys, beautiful buildings, museums and around Huize Almelo Castle.
Besides Almelo, the towns of Ootmarsum and Delden or the big shopping town Enschede are also worth a visit. Tip: rent a bike or E-bike and experience up close how beautiful Twente is. Enjoy your trip to the fullest!
Bike rental
You can rent an E-bike or bicycle at the hotel reception. This is only possible in combination with a hotel stay, advance booking is not possible. At the hotel reception there are numerous cycling and walking routes with Preston Palace as the start and end point. Ideal!
Support your locals
Quality, service and 'support for our locals' are central to all our collaborations. For example, the bread and pastries come from the Almelo bakery Smit, the milk from the farmer Kees in Agelo, the fresh products from Hanos Hengelo and our beer flows from the pipes of Grolsch Enschede.
New Bikkel E-bikes
We are therefore proud of the new collaboration with the Eenkhoorn family from Almelo. Ambitious entrepreneurs who understand cycling like no other and are just as enthusiastic about service and quality for our guests. From mid-June 2022 onwards, Preston Palace will rent new electric bicycles of the Bikkel brand from Bikestore Almelo. The E-bikes are parked at Preston Palace and can be rented daily.
Relaxed ride
Experience the convenience of the Bikkel E-bike of Dutch brokerage Bikestore Almelo in our bike rental. Will you go for full support or will you put it in the lowest setting? With the maximum drive, you can turn a rough ride into a relaxing one. And with a perfect action radius, trips of 60 km are no problem at all. Choose your own challenge and rent a Bikkel during your next stay.
Prices
E-bike: €25.00 per day.
Ladies/Gents bike: €8.50 per day.
Children's bike: €5.00 per day.