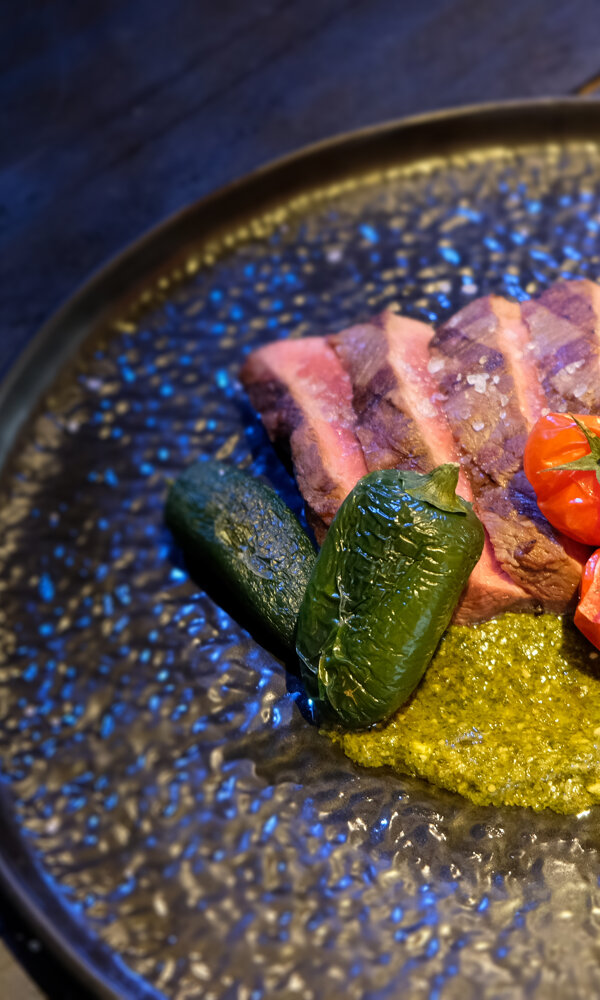 Dinner menu Midtown
"Nice to meat you! In our newest restaurant Midtown we travel to America with dishes like Mac & Cheese, Midtown Ribs, Peppersteak and Grilled Sea Bream. And then those desserts: Triple Chocolate Cake, Cookie Dough Coupe and American Pancakes. Delicious food here is just "a piece of cake"!
V means that the dish is vegetarian possible.
*This menu is subject to change.
Starters
Chicken Soup: Powerful chicken broth served with pulled chicken, tomato, and zucchini
Sweet Potato Soup (V): Soup of sweet potato with finely chopped peppers
Caesar Salad Fried Chicken Strips (V): Romaine lettuce with egg, breaded chicken, croutons, Parmesan and anchovy mayonnaise
Chili Riviera Prawns: Spicy garlic shrimp served with bread
Buffalo Wings: Fried chicken wings glazed with honey barbecue sauce
Bagel Cream Cheese (V): Bagel served with cream cheese and fresh garden herbs
Spaghetti Meatballs (V): Small beef meatballs with pasta in tomato sauce
Main courses
Midtown Ribs: 600 grams roasted spareribs (sweet or spicy)
Mac & Cheese (V): Macaroni with melted cheese
Double Stardust Bacon Melt: Double grilled beefburger with lettuce, tomato, pickle, bacon, cheddar and burgersauce
Double Stardust Veggie Melt: Stardust melt with vegetarian burgers, lettuce, tomato, pickle, cheddar and burgersauce
Fried Chicken: Fried chicken tenderloin with sweet & sour sauce
Louisiana Gumbo: American stew made with chicken, spicy sausage, and shrimp, served with rice
Peppersteak: Grilled beef sirloin served with pepper sauce
Grilled Sea Bream: Grilled fillet of dorado served on linguine pasta with red pesto and lime
American coleslaw, fresh fries, onion rings, and a loaded potato (potato with sour cream) are available as separate sides
For the kids
American Pancake: Pancakes served with forest fruit compote
Mini spare ribs: Spare ribs served with fries
Breaded chicken tenderloin: Chicken tenderloin served with fries
Desserts
Triple Chocolate Cake: Rich chocolatecake served with chocolatesauce and whipped cream
Strawberry Sorbet: Strawberry ice cream, vanilla ice cream with strawberry topping and whipped cream
Cookie Dough Coupe: Caramel ice cream, vanilla ice cream with cookie dough topping and whipped cream
Funky Donut: Glazed donut served with vanilla ice cream
American Pancakes: Pancakes with forest fruit compote and a scoop of vanilla ice cream
Kids desserts
Kinder ice cream: Vanilla and strawberry ice cream with sweets and whipped cream
Kids donut: Colorful donuts