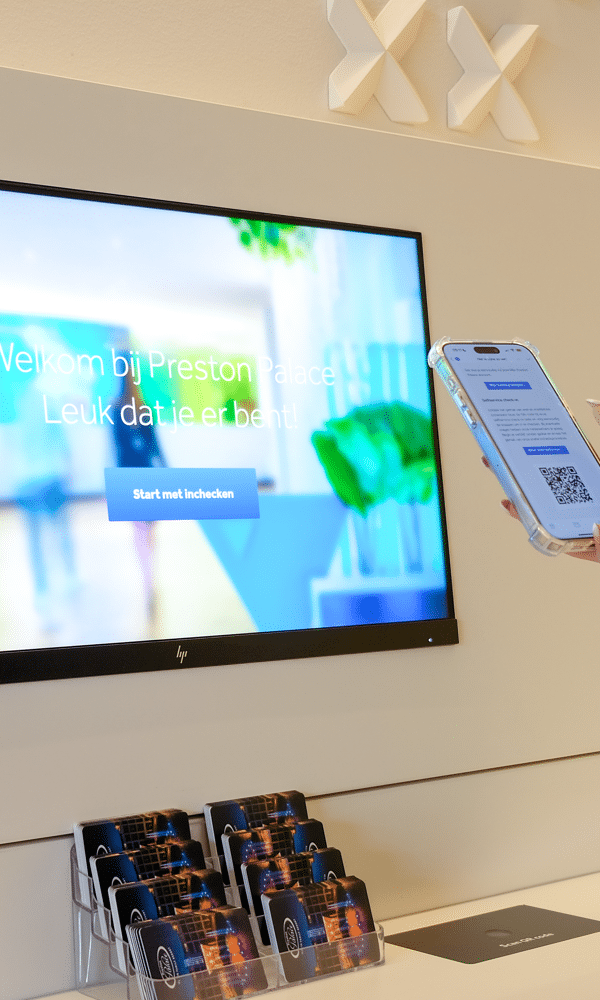 New Self-Service Check-in
Discover this innovation at Preston Palace.
Guests now have an option when checking in for their delightful all-inclusive stay.
We have important news for you! After an extensive testing period, we proudly introduce our Self-Service Check-in at Preston Palace. This innovative system allows guests to check in quickly and effortlessly generate room passes with a simple QR code. Guests who prefer to check in personally can always turn to the hotel reception. This personal service will, of course, continue.
Why this innovative addition?
Our goal is clear: reduce queues and simplify the check-in process for our guests. Especially for frequent visitors who often only need a room key, this system offers a smooth experience without unnecessary waiting. This way, our valued guest can enjoy the complete all-inclusive offering even faster.
Partners in innovation: Kemper Interieurbouw, Webstores, and Bureau Strak
This successful innovation wouldn't have been possible without the contribution of our fantastic partners. Special thanks to Kemper Meubelproductie B.V., responsible for the beautiful design and construction of our Self-Service Check-in. Kemper translated our wishes into a beautiful counter.
We are also incredibly proud of our collaboration with Webstores, our digital partner, who developed the software to make all this possible. Thanks to Webstores' expertise, we now have a seamlessly integrated system that simplifies the check-in process for our guests.
Bureau Strak, our online marketing agency, also deserves recognition for their involvement in developing email correspondence to our guests. Bureau Strak supported us in the communication process and contributed to a smooth transition to this innovative addition to our check-in system.
Maintaining personal service
We understand that our unique hospitality service is paramount. Therefore, we want to emphasize that our Self-Service Check-in is supported by a Front Office Employee to ensure everything runs smoothly. Guests don't need to worry: personal contact remains intact.
The hotel reception is also open 24/7
For guests who prefer 'traditional' check-in, our hotel reception is still and always available. We aim for freedom of choice and convenience for all our guests.
Always a warm welcome
Thanks to all our partners and employees who contributed to this special project. We look forward to welcoming our guests at Preston Palace for an even smoother and more efficient experience!